KIMONDO JIGGERS FINAL REPORT - OCT 26-27 2021
Kimondo is one of the community units within Endebess Sub County where there are some outreach sites for preventive services. These are regularly visited by Rotary Doctors Sweden. During household visits during the covid programme, it was realized that there was an increase in the number of jigger cases among members of this community. A jigger is a small parasitic flea that burrows into the skin of a warm-blooded host before laying eggs. They generally attack feet or hands. At first, the jigger appears as a small black dot on the skin. As the female's abdomen fills with blood and eggs, a bump forms underneath the skin, which is often painful and itchy and makes walking incredibly difficult.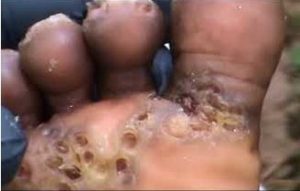 One... Many!
During a visit in February this year, it could be confirmed that the area is now free from jiggers!
Our helpers on site, Selina and Jacintha will appear at the Club Meeting on 31st of May, don't miss it!
By that time LIRC will have decided how to proceed feeding the activity, making it truly sustainable.